Hand Stretch Wrap
Pallet Wrap Stretch Film Functions:
In pallet unitizing, stretch wrap can have several functions:
1) Improved stability of products or packages, forming a unit load
2) More efficient handling and storage of unit loads
3) Some degree of dust or moisture protection
4) Some degree of tamper resistance and resistance to package pilferage
Making sure cartons stay on the pallet is an important consideration in warehouse distribution, especially as the demands for increased throughput continues to rise. Stretch wrapping is the most cost-effective way to keep loads secured, on a pallet.
Pallet Wrap Stretch Film Advantage:
1) Protects the Packed Items from Abrasion & Scratches
2) Even thickness, Excellent Clarity
3) Ease of Removal
4) Saving Cost and Handling Time
5) Ensuring Stability of Palletized Goods During Transportation
6) Environmental Protection, Non-Toxic
7) Great ideals for Protecting Good from Moisture, Rust and Dirt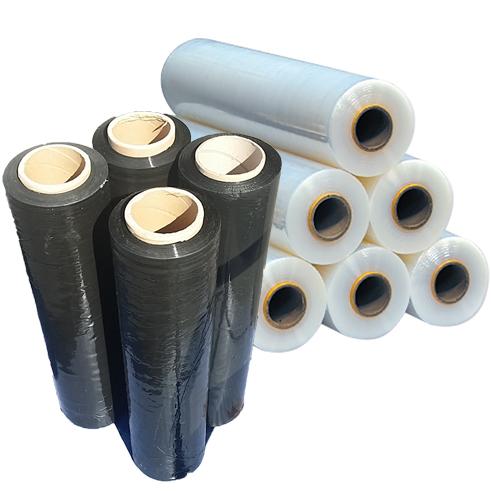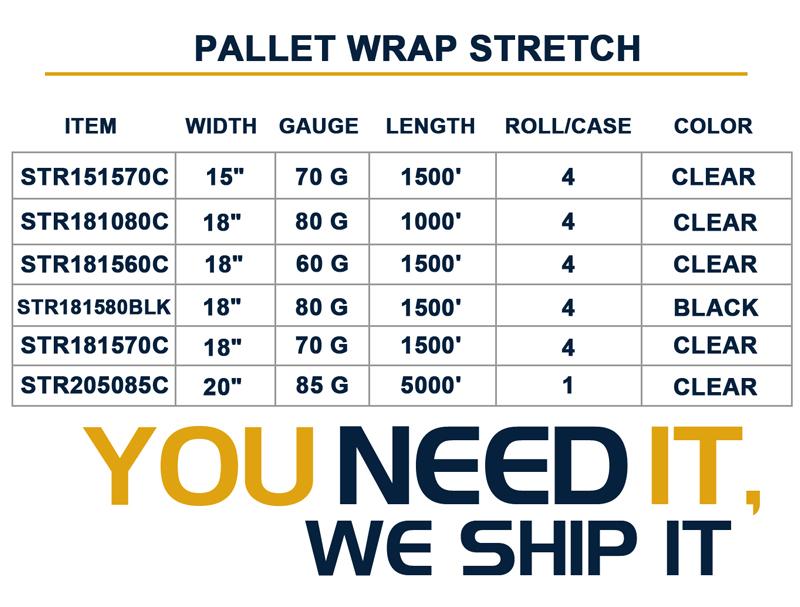 Machine Stretch Wrap
Pre-Stretched film is stretched close to its ultimate break point prior to being woung onto roils for final use. This means the film doesn't require as much stretching energy as a standard stretch film to achieve the same wrapping force.
Major Benefits Include
There are many benefits to using pre stretched film. Basically, users get the same (or better) Load stability with less product, less physical energy, and greater control.
Easier To Apply
Lower torque requirements allow users to walk forward instead of backward during application-making for safer and easier control. Also, little or no stretching is required, so it's much easier to wrap with less physical strength. The roll is lighjter (about 2/3 less than traditional film) and easier to manage. It's about half the thickness and double the strength.
Stretch Consistency
Traditional stretch film does not provide uniform stretch. so its performance is unpredictable; this leads to intermittent load failures. The performance of pre-stretched film is much more controllable.
Price
Pre stretched film consumption can be less to one half that of traditional stretch film. This creates a cost savings of anywhere from 25% – 40%.
Film Memory
Since the film is applied to the load with little force, it will naturally tighten after application. This unique film memory and its tendency to tighten after application is the single most important reason for pre stretching film.

Other Benefits
No width reduction during tensioning reduces the number of film wraps required improves productivity.
* Excelleny film cling ensures that film tails will stay in place.
* Good film clarity aows easier inspection of packaged products.
* Superior load retention provides better load stability.
* It performs well in extreme cold.
* It facilitates compliance with packaging waste Regulations –
using less means less to dispose of.